History
Philosophy
Aquarama is rooted in the past and in the Italian and Umbrian tailoring tradition and his look to the future and innovation are a real hallmark.
The search for style and testing of fabrics are the constant in men's and women's collections . In the DNA of the brand , born in the 50's , there are the processing for classic waterproof raincoats. Every season thanks to the continuos stylistic research and experimentation of fabrics, Aquarama offers new and extraordinary garments for the wardrobe of men and women , that can satisfy with modern elegance and style all the requirements for a dressing practical and dynamic.
Our internal team designers is animated by Mr. Marco Tofi that is Creative Director of the brand Aquarama. He has a rich and eclectic personality, an innate taste for beauty ,he is a lover of art, fashion , he is a collector of pictures and vintage cars and connoisseur of perfumes.
He has done economic studies at the University but has always worked in the family business acquiring a great knowledgeand experience in creating fabrics and tailoring techniques . He takes inspiration from textile culture and Italian and Umbrian historical tradition and interprets them in its collections in a modern way with the use of exclusive technical materials.
COMPANY PROFILE
Marco Tofi e AQUARAMA
Marco Tofi ha una personalità ricca ed eclettica, un innato gusto del bello, un amante dell'arte, della moda, un collezionista, addirittura un conoscitore di profumi (ha lanciato anche la prima fragranza AQUARAMA). Si può così definire un "Nuvoletti moderno". Assisi, ricca di tradizioni storiche e artistiche importantissime è la città ideale per esprimere la sua personalità.
Marco Tofi è anche un grandissimo appassionato di tessuti e delle tradizioni sartoriali. Prende ispirazione dalla cultura tessile e dalla tradizione storica italiana per trarre interpretazioni moderne per le sue collezioni. Tutte le proposte di capi sono infatti in tessuto tecnico. Si evidenzia anche una importante competenza nei contenuti: forma, volumi, modelli. Segue l'evoluzione della moda maschile e femminile, che rielabora prendendo spunto dal passato.
AQUARAMA interpreta in chiave moderna la più nobile tradizione tessile italiana con grande ricerca stilistica e sperimentazione al fine di sviluppare estetica, utilità e valore.
Concetto importante è quello del VIN-TECH (rielabora la tradizione, coniuga il passato con il futuro). Marco Tofi vuole riproporre nelle sue collezioni una competenza sartoriale che si è sempre più persa, un'artigianalità che è stata via via soppiantata dalla delocalizzazione... è forte dunque la volontà di recuperare la cultura tessile.
I tessuti vengono elaborati internamente (è un Esperto con la E maiuscola).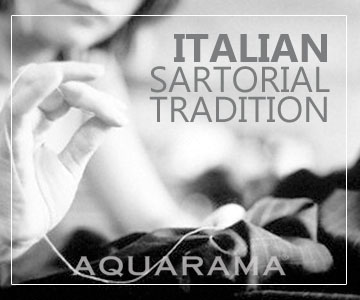 Info & Contatti
AQUARAMA
Via Indipendenza 12
06081 Petrignano d'Assisi (PG)
Italy
Tel. () 
+39 075 803 0038 
E-mail () 
info@aquarama.biz
MILAN SHOW ROOM